DESIGNERS & MANUFACTURERS OF HIGH QUALITY STURDY FRP TANKS, OR, FIBERGLASS REINFORCED PLASTIC TANKS, PP TANKS, FRP VESSELS IN INDIA
SHREE GANESH ENGINEERS designs and manufactures Vertical type, Horizontal type and rectangular type FRP tanks, GRP tanks, PP Tanks, :PP-h Tanks, PVC tanks and FRP equipment as per customer's size & Specifications using various grades of resins like Isothalic, Bisphenol and Vinylester. All tanks are offered with flat, conical or dished bottoms. These tanks are made of a combination of Fiberglass and resin, making them resistant to a wide range of chemicals and offering high strength and durability.
TYPE OF FRP TANKS: VERTICAL CYLINDRICAL, HORIZONTAL CYLINDRICAL AND RECTANGULAR
ENDS / TOP / BOTTOM: FLAT, CONICAL AND DISHED
Capacity: Up to 200 m3 Liter.
Our FRP Tanks, or, Fiberglass Reinforced Plastics Tanks, are mainly used for storage of corrosive chemicals or processes of chemicals in various industries Chemical Processing, Water Treatment and Wastewater Treatment. Electroplating, Acid Pickling, etc.
All GRP tanks / FRP tanks and FRP vessels are manufactured as per British & Indian Standards.

Wherever require, additional FRP thicknesses are provided as per BS-4994.

All our FRP equipment are tested in-house for Dimension Check, Spark Test (PP tanks or PP-FRP tanks), Water fill test, Pressure Test.

All nozzles below 50 NB size are supported by gussets.

UV Stabilizer is added in final resin coat to prevent finishing from sunlight.
ADVATANGES OF FRP TANKS
In-Built Nozzles,

Very safe tank,

No bulging

Cleanable

No separate support structure.

Repairable (at site)

Long Life

Suitable for Acids / Alkalis / Solvents

Very Good Strength

Light Weight

Hygienic
PP-FRP STORAGE TANK (HORIZONTAL)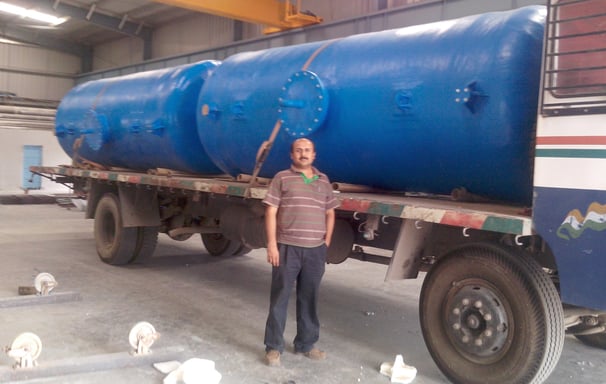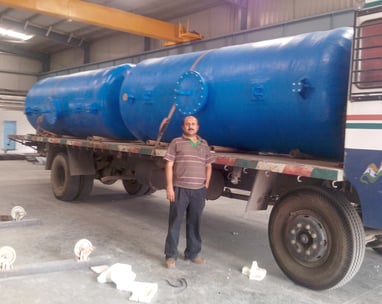 PP-FRP TANKS (RECTANGULAR) PHOSPHATING PLANT TANKS